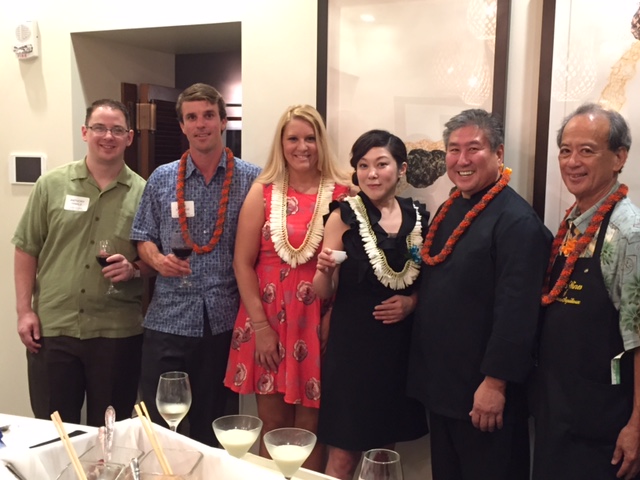 Left to right: Anthony Hinkle, Senior Underwriter, Western States; Alex Strange, Vice President, Western States Regional Executive; Kimber Cochran, Sales and Marketing Coordinator, Western States; Caoli Cano; Alan Wong; Robin Campaniano, Senior Adviser to PURE Insurance company.
PURE Insurance Company, an Arizona based company that deals with high-level insurance policies for high valued property, came to Hawaii to set up shop. PURE Insurance executives from the Western region invited fifty independent insurance agents in Hawaii to a wine and sake tasting to introduce PURE Insurance Company to the agents, as well as enjoy this inaugural moment together. What a night it was!
What made the evening uniquely special was that it brought together two extraordinary and creative masters: Alan Wong, the master chef and genius with food creativity who personally prepared butter poached island lobster and other savory dishes; and Caoli Cano, who poured NIJI and ASAO sakes brought over from her Hasamaya Brewery in Japan.
It was an unforgettable night seeing Caoli and Alan working together, mesmerizing the guests with their artistry.