Our Story
When Glenn Miyataki was teaching an MBA course on Cross-Cultural Management at Tsinghua University in Beijing, China in July 2006 to students from China and Europe, he expected hectic weeks of teaching. That changed after the first day of class when a French student asked if Glenn would help with her Masters' thesis. With the words, "Of course, I'd be glad to do it," a journey began with Anne Lemarie and her family who owned Chateau Aiguilloux (est. 1982) located in the Languedoc-Rousillon region of south France.
Fast forward to December 2007 when Glenn and his daughter, Olivia Reiko Miyataki-Pellarin (of Lyon, France), spent the weekend with the Lemaries at Chateau Aiguilloux. The vineyard was so beautiful and the area so pristine. At night when you breathe in the crisp, clear air and look toward the sky, millions of stars appear so close that you feel like you can reach up and pluck them. When Anne's parents, Francois and Marthe Lemarie, invited Glenn and Olivia to import the Lemaries' wines to Hawaii, they jumped at the chance!
It took six years to put together Aloha Wines & Sake, and finally in 2013, they imported the Lemaries' wines to Hawaii. It's been four years now since they've been serving the people of Hawaii through wine tastings and private gatherings.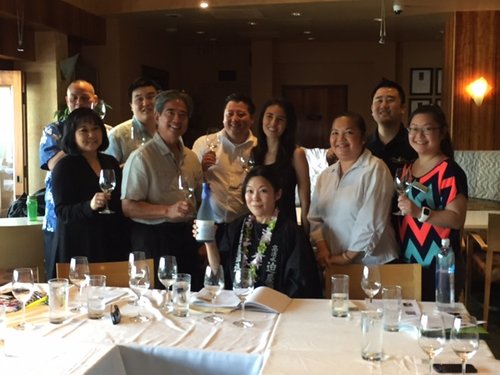 The Rest Is History
Our sake story also has a personal beginning.
In February 2011, Duane Kurisu and Glenn met Ms. Caoli Cano at an executive workshop. A 12th generation brewmaster of Tokyo's Hasamaya Brewery (est.1757), Ms. Cano demonstrated the "Art of Sake." Later that evening, while having dinner, she shared her dream to export her sake to Hawaii and to meet the infamous culinary chef Alan Wong. In July of the same year, Duane and Glenn helped Ms. Cano meet Alan Wong and had him taste her jumai daiginjo sake.
Four years later, Aloha Wines & Sake has the exclusive rights to import two of Ms. Cano's premium sakes: the privately-labeled Alan Wong's ASAO junmai daiginjo and our popular NIJI junmai ginjo dry sake.
We welcome any inquiries you might have about Aloha Wines & Sake!
Please fill out the form with your name, email address, and how we can help you and we'll be in touch with you as soon as we can.