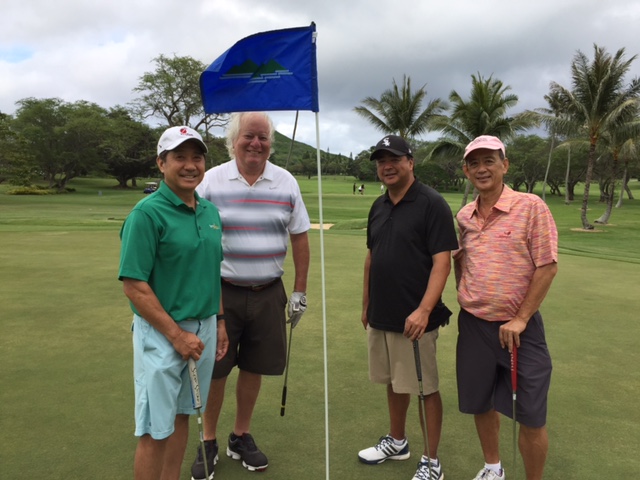 Left to right: Mike Hirai, Hersh Singer, Neal Yokota, Robin Campaniano.
We hosted a fun bash at the Mid Pacific Country Club for the first time and called it the "9-Hole Golf, Wine and Sake." A group of thirty-six golfers, patrons who've frequented our wine and sake tasting in the past, played a round of 9-holes of golf on May 9. After the round was completed, everyone had a chance to enjoy bottles of the Aloha Les 3 Seigneurs 2013 and NIJI Junmai Ginjo, both served with food pairings prepared specially by Mid Pacific Country Club's chef.
We wanted to create an atmosphere for the golfers to relax right after work with golf, food, wine and sake, as well as provide the opportunity to enjoy camaraderie and build relationships with their fellow business professionals. Prizes were awarded based on team scores as well as by lucky draw.
From all indications, the event was a huge success, and those who attended all voiced their desire to attend again in the future!