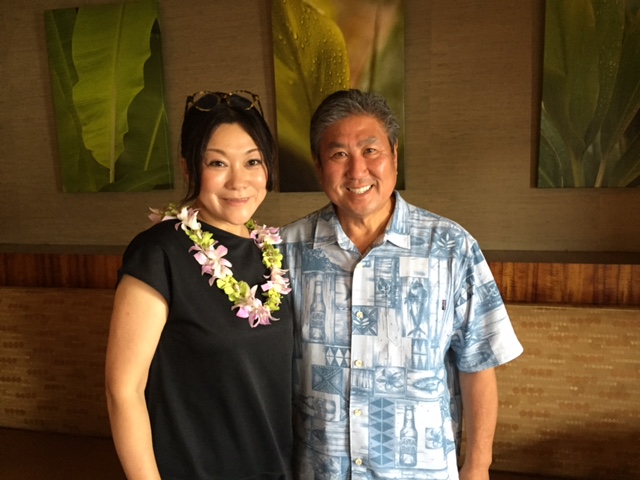 Caoli Cano with Alan Wong
Caoli Cano, a 12th generation sake brewmaster from Hasamaya Brewery (established in 1757), hosted an Art of Sake seminar for the cooking staff of Alan Wong's Restaurant, including Food and Beverage Manager Mark Shishido. Prior to the seminar, Alan Wong appeared personally to say, "Hello" to Cano.
Feedback from Alan Wong's staff was very positive and another seminar is scheduled for August 1, 2017 at Alan Wong's Restaurant for his staff.
Later that evening, we held a food and wine tasting at One Ala Moana that included forty invited guests. Everyone had a chance to sample NIJI Junmai Ginjo, Alan Wong's ASAO Junmai Daiginjo, Aloha Les 3 Seigneurs 2013, and Aloha Anne-Georges 2012, including a live sushi bar from Kevin Higa's Superb Sushi Company.